IMPROVE HEALTH AND REDUCE COST
with eFamilyCare
Caregivers are the glue that connects vulnerable adults who are living with complex medical, physical, behavioral and cognitive challenges to the support they need. As the United States faces a serious shortage of nurses and physicians and people continue to live longer with more complex health challenges, the role of family caregivers will only grow in influence.
Adults have multiple chronic conditions
National Association of Chronic Diseases 2022
Family Caregivers caring for adults with chronic conditions
AARP Caregiving in the US 2020
Family Caregivers interested in using technology
AARP Caregiving and Technology 2016
Caregivers can succeed with support, advocacy, and planning.
Evidence reflects that empowered family caregivers improve the health status of people with chronic diseases and disabilities, while reducing cost of care. When caregivers are educated and empowered, unnecessary emergency room and hospital visits are avoided.
ADVISING FAMILY CAREGIVERS IMPROVES THE HEALTH OF CARE RECIPIENTS

THE 4Ms OF CARE
The eFamilyCare adviser's approach to care is based on the John A. Hartford Foundation's 4Ms of care which are essential elements of supporting a chronically ill loved one (Fulmer T, Mate KS, Berman A. The Age-Friendly Health System Imperative. J Am Geriatr Soc. 2018 Jan;66(1):22-24).
What Matters
We help family caregivers understand their chronically ill loved one's health goals and care preferences.
Medication
We help family caregivers ensure that their chronically ill loved one's medications do not interfere with Mobility, Mentation or What Matters.
Mentation
We help family caregivers identify the signs of dementia or depression and connect with resources to support their loved ones.
Mobility
We help family caregivers ensure that their chronically ill loved one moves safely every day to maintain function and do What Matters.
FOCUS ON FUNCTIONALITY
The eFamilyCare advisers help family caregivers deal with a decline in their loved one's functionality. eFamilyCare data show that over 2/3 of the problems family caregivers face are physical, behavioral, and cognitive impairments of their care recipients. In addition, helping the family caregiver understand the treatment and care plan of clinical providers is often an important part of ensuring the care recipient is getting the right treatment.
eFamilyCare advisers work with caregivers to identify the problems and issues that matter most to them. Care Advisers then provide the necessary support to enable the caregiver to better care for their Loved One and help them stay at home. The support can take the form of coaching, education, training, or referrals to resources available from both the community and their health plan.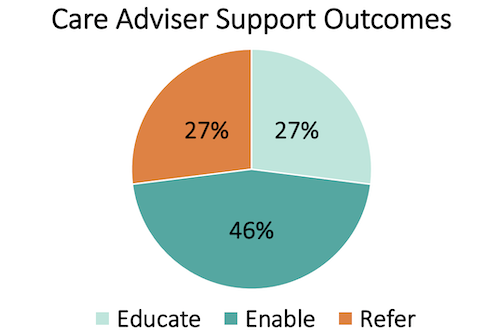 ASSURE CAREGIVERS
THEY ARE NOT ALONE
eFamilyCare technology ensures that family caregivers get the expert advice they need to plan, make informed decisions, and improve relationships with health providers.
Payers, providers, and other organizations can now provide family caregivers with a convenient way to get expert advice on their mobile app or desktop.
HELPING FAMILY CAREGIVERS SUCCEED