"My friend Winston has physically and mentally fallen apart since his wife died 3 years ago", said Malcolm. "He has been homeless several times and is now sleeping in his car. I am again looking for an apartment for him, but I am scheduled for my own surgery in 2 weeks. I need help finding a safe place for him."
Sheila, a Care Adviser with over 10 years' experience in social welfare and health care responded immediately in the app to Malcolm, whom Winston's health plan had identified as his caregiver. "Malcolm, I want you to know how significant your support has been in preventing an even more dire situation for Winston", said Sheila, "but I am concerned how much stress this experience has put you under. I am here to help."
All communications are confidential and secure.
She explained that they would work together to locate a safer living situation for Winston and address his unmet health care needs. Sheila explained that Malcolm could message her any time through the eFamilyCare app, and she would respond within 2 hours. She encouraged Malcolm to share any additional concerns he had about Winston's situation and assured him that all communications were confidential and secure.
Malcolm responded at length focusing on Winston's longstanding history of mismanaging finances which not only had contributed to his housing problems but also his declining health. He referenced Winston's several falls and some confusion. From his lengthy response, Sheila ascertained Malcolm's willingness to engage in the advising process and asked him to complete two assessment forms, Getting to Know Your Loved One and Health Risk Assessment, to help her better understand the situation.
Malcolm felt alone and frustrated with his caregiving responsibilities.
Sheila responded immediately upon receiving the completed questionnaires, commenting on how sad Winston's situation was and inquiring if there were others involved in helping Winston such as friends, families or a care manager from the health plan who had made the referral to eFamilyCare. He provided the name of a sister who lived out of state, but he didn't have an address.
Winston had little or no contact with the sister and it was clear from the tone of Malcolm's response, that despite the sister and Winston's connection to members of the church, Malcolm felt alone and frustrated with his caregiving responsibilities. Furthermore, he was unaware of any care manager from the health plan.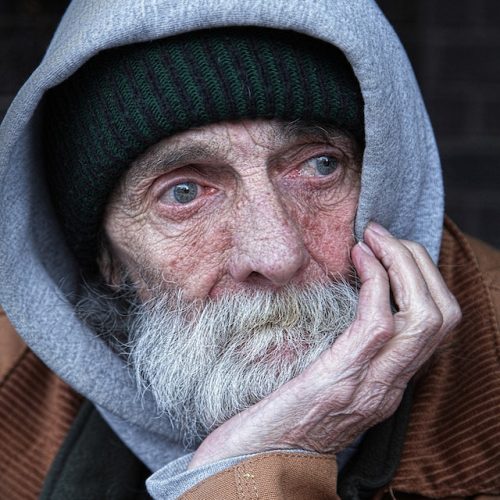 Malcolm felt alone and frustrated with his caregiving responsibilities.

eFamilyCare

Tweet

Additional support for the Care Crew.
As Sheila and Malcolm continued to message back and forth it became increasingly apparent that Malcolm's primary concern was to find housing before he, himself, was hospitalized and unavailable to Winston. Sheila addressed this concern by suggesting that Malcolm select and invite one of the church congregants to join the Winston's Care Crew in the app so that there would be someone who would know Winston's situation when Malcolm was in the hospital.
Malcolm followed through with the suggestion and Sheila reached out to the health plan to locate a care manager who could address some of Winston's health needs. Using the eFamilyCare collaboration tool in the app, Sheila sent a red flag alert to refer Winston to a care manager.
Monitor the situation.
The following day, Sheila received a message in the collaboration tool that, in fact, Winston had a care manager, Carla, with whom he had been in contact. Carla had referred Winston to a shelter with social service support, but Winston had not followed through. Had Carla been aware of Malcolm's involvement, Winston might have followed through with the referral.
On the same day, however, Sheila received another message from Malcolm. He had located a furnished room for Winston, albeit in a substandard housing in an unsafe neighborhood and had moved in. Malcolm was relieved because it was only 3 weeks before he was scheduled for surgery. A week later, Carla reported to Sheila that she had spoken to Winston who reported that "everything was good." Carla requested that Sheila continue to monitor the situation via her work with Malcolm.
Collaborated on creating a plan.
Sheila tried to maintain contact with Malcolm, checking in to inquire as to how Winston was doing. She did not receive a response until the following week when Malcolm reported that Winston had fallen and had to call 911 and paramedics to help him get him up. There was no other treatment. Malcolm speculated that the poorly heated apartment had exacerbated Winston's arthritis, but Sheila suggested that Malcolm encourage Winston to see his doctor for follow up and offered to message Carla through the app to see if he was eligible for a Personal Emergency Response (PERS)device.
Carla responded that Winston had not seen a primary doctor since he had become a member of the health plan which was a requisite for obtaining a PERS. She had been unsuccessful in reaching Winston by phone about this, but calls had gone to voice mail for over a week.
Sheila copied and shared Carla's message with Malcolm in the app who explained that, at that time, Winston had been victimized in his apartment by a couple who he had befriended. The couple had stolen his credit card and his cellphone charger leaving him unable to call anyone or be reached. When Malcolm went to the apartment to check in on Winston, there was a foul odor from bags of unwashed laundry. Winston was only partially clothed. Sheila thanked Malcolm for providing vital information and a clear picture of Winston's situation. She explained that she would report this to Carla, as she was certain the health plan was unaware of the extent their member Winston was a risk.
Carla responded immediately to Sheila's red flag communication in the app. They collaborated on creating a plan that included:
Suggesting that Malcolm make an Adult Protective Service referral which could lead to emergency services for Winston.
Arranging for meals to be delivered so that Winston would not have to shop for groceries in an unsafe neighborhood or be at further risks for falls.
Scheduling a home visit with Winston, Malcolm, and Carla – with Sheila participating via video chat through the app to discuss long term planning for Winston once Malcolm had recovered from his surgery.
Malcolm was reluctant to make a referral to APS.
Continued support for Malcolm.
A few days later, Sheila received a message from Malcolm from his hospital bed that he had received a message from the church congregant who he had invited to join Winston's care crew that Winston's landlord had found Winston in his bathroom, covered with feces. It was unclear how it had happened, but Winston had refused the landlord's offer to call the paramedics and instead called this friend for assistance. At this point, Sheila determined that there was adequate messaging from Malcolm in the eFamilyCare app for her to make the APS referral, but before APS could schedule a visit, Sheila received a message from the church congregant. Winston had fallen again and had been hospitalized.
Sheila sent a red flag alert to Carla about the admission, who located Winston and his hospital social worker. Carla was able to share historical and current information about Winston's psycho-social situation, thus enabling her to work effectively in formulating a discharge plan that was acceptable to Winston. Winston was transferred to a custodial care setting where he is safe and less isolated. The facility was recommended to the social worker as a place where other congregants had been placed. Winston is waiting determination of Medicare eligibility for rehabilitation.
Sheila continues to support Malcolm as he advocates for Winston's benefits, entitlements, and quality care. She continues to encourage Malcolm to legally accept the role of Health Care Proxy.
About eFamilyCare
eFamilyCare is an online family caregiving service that connects you with expert care advisors dedicated to helping you care for your loved ones. Their care advisors help members build a personalized plan that provides ongoing support for family caregiving. eFamilyCare's Co-Founder, Dr. Eric Rackow (President of NYU Hospitals Center) saw first-hand the need to better support family caregivers of patients who were unnecessarily experiencing frequent hospitalizations. His insights led him to develop a unique model of complex chronic care management and homecare solutions nationwide. His story, like the other founders of eFamilyCare, helped to create the first-ever digital platform to connect family caregivers to medical experts anytime, anywhere.