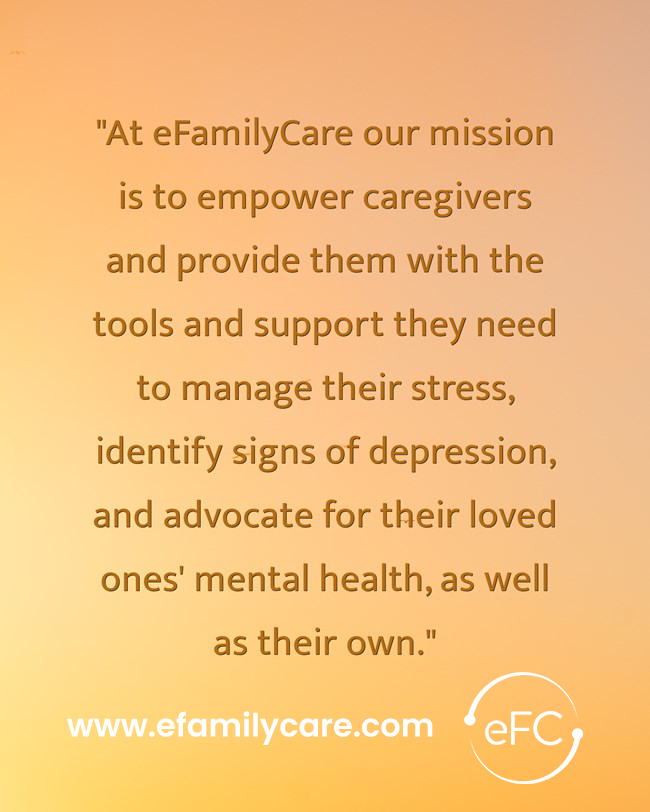 Major depression is one of the most common mental illnesses, affecting 6.7% (more than 16 million) of American adults each year. This month highlights the importance of early detection and intervention in the realm of mental health.
Mental health awareness is especially crucial for caregivers who often shoulder the responsibility of caring for their loved ones, placing them at risk of developing stress and depression themselves.
In this blog post, we'll delve into the challenges faced by caregivers, why you should get screenings, and explore how eFamilyCare steps in to provide support and resources for both caregivers and their loved ones.
The Impact on Caregivers
Caregivers are the unsung heroes of our healthcare system. They play a vital role in the well-being of their loved ones, offering support and care for individuals who are often dealing with chronic illnesses, disabilities, or mental health issues. While this role is incredibly rewarding, it is not without its challenges, including physical, emotional, and mental strain.
The demanding nature of caregiving can take a toll on a caregiver's mental health. The stress and emotional burden associated with providing care can lead to caregiver burnout, anxiety, and even depression. Caregivers may neglect their own well-being as they prioritize the needs of their loved ones, inadvertently putting their own mental health at risk.
At eFamilyCare our mission is to empower caregivers and provide them with the tools and support they need to manage their stress, identify signs of depression, and advocate for their loved ones' mental health, as well as their own.
Support and Stress Management: eFamilyCare offers a range of resources designed to help caregivers manage the stress and emotional challenges they face daily.
Identifying Depression: eFamilyCare equips caregivers with knowledge and tools to identify these signs, encouraging early intervention and treatment.
Care for Caregivers: In a comprehensive approach to mental health, eFamilyCare doesn't just focus on the caregiver's well-being but also educates the caregiver on how to manage their loved one's mental health.
During National Depression and Mental Health Screening Month let's not only focus on screening and support for individuals dealing with mental health issues but also remember to support the caregivers who stand by their side, making it possible for them to access the care they need. Schedule time with us today to learn more about how eFamilyCare is helping caregivers find the strength to navigate these challenges and promote better mental health outcomes for their families. 
About eFamilyCare
eFamilyCare is an online family caregiving service that connects you with expert care advisors dedicated to helping you care for your loved ones. Their care advisors help members build a personalized plan that provides ongoing support for family caregiving. eFamilyCare's Co-Founder, Dr. Eric Rackow (President of NYU Hospitals Center) saw first-hand the need to better support family caregivers of patients who were unnecessarily experiencing frequent hospitalizations. His insights led him to develop a unique model of complex chronic care management and homecare solutions nationwide. His story, like the other founders of eFamilyCare, helped to create the first-ever digital platform to connect family caregivers to medical experts anytime, anywhere.